SPA at home: 10 do-it-yourself beauty treatments
In this time of year with the heat and the weight of the winter months on our shoulders, our body begins to feel tired and the desire for an escape in a SPA grows to be pampered and regenerated. For those who cannot indulge in this little luxury, they can recreate the SPA directly in their own home, practically at zero km, with easily available natural products.
Here then are 10 natural SPA- style beauty treatments to be done comfortably at home, without spending exorbitant amounts on beauty products and spa treatments, giving a small gesture of love to skin, hair, teeth and body.
You will be pleasantly surprised to discover that many natural and low-cost ingredients to recreate the SPA at home are found right in the cabinets of your kitchen. Ingredients capable, often, of giving you better results than the most famous cosmetic brands.
Treatments For The Do It Yourself Spa
Body: Scrub with cane sugar and lemon juice
This scrub is suitable for all skin types and the presence of cane sugar makes it particularly suitable for sensitive skin, moreover lemon has a disinfectant function, so the scrub will allow opening and purification of clogged pores. Plus the oils present in the blend will leave your skin soft, healthy and glowing.
To prepare the cane sugar and lemon juice scrub you will need: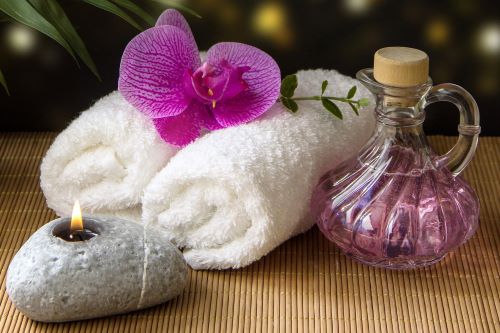 1 cup of brown sugar;
1/2 cup of sea salt;
2 tablespoons of coconut oil or olive oil;
1 tablespoon of honey;
2 tablespoons of freshly squeezed lemon juice;
1 tablespoon of your favorite essential oil (we recommend bergamot for energy, eucalyptus or mint for stress relief and lavender or jasmine for relaxation).
Mix all the ingredients in a bowl until you get a fairly homogeneous mixture. Apply to damp skin in circular motions with your fingertips to help remove dead skin cells. Rinse with warm water, dry the skin and apply your usual moisturizer. Results: smoother, softer and more radiant skin.
Feet: Milk Foot Bath
Heat 4 cups of whole milk in which you have dissolved 2 tablespoons of English salt, also known as Epsom salt and 6 drops of your favorite lemon, sandalwood or lavender essential oil for the hot foot bath. Pour everything into a basin that can comfortably hold your feet and leave them immersed for 20 minutes. You can also use the brown sugar and lemon scrub to remove dead skin from your feet and thus have Cinderella-proof feet.
Hair: Avocado conditioning mask restores vitality to dull and dry hair.
Mash the avocado (for long hair it takes 2) in a bowl with a fork until you have obtained a kind of puree. Add a couple of drops of your favorite essential oil to make your mask scented. Spread the paste on the hair from the roots to the ends. Leave on for 20 minutes and proceed with your usual shampoo. Results: shiny, smooth and hydrated hair.
Hair: Avocado conditioning mask restores vitality to dull and dry hair.
This is an excellent hair treatment for those who regularly swim in the pool because chlorine tends to dry out the hair.
Beat 2 eggs (3 for long hair) and add 3 tablespoons of olive oil. Add your favorite essential oils to perfume the mask. Apply a generous amount of the compound to the hair from root to tip. Wrap your hair in a warm towel and let it sit for about 30 minutes. Then proceed with the usual shampoo; You will get soft, shiny and easy to comb hair. For the natural well-being of your hair it is sufficient to perform the treatment once a month (twice for dry hair).
Beauty Treatments To Do At Home
Hair: naturally enhance the highlights of blonde hair
To obtain natural blonde highlights worthy of the best beauty salons, put a 3/4 cup of water and 1/4 of lemon juice and apply the mixture obtained on the hair. Lemon juice acts as a natural lightener. Apply a small amount of hair conditioner to moisturize. Sit in the sun until your hair is dry. To maximize the effect, repeat once a day for a week.
Teeth: Strawberry Whitening Mask
This natural blend removes any stains and yellowing from your teeth.
Squeeze a ripe strawberry and mix it with 1/2 teaspoon of baking soda. Apply the mixture on the teeth with a brush and leave on for 5 minutes; then brush your teeth with regular toothpaste. Repeat once a week.
Face: honey and oat scrub
Mix 1 tablespoon of honey, 1 tablespoon of finely chopped almonds, 2 tablespoons of oatmeal and some lemon juice or yogurt. Massage the mixture thus obtained, delicately on the face; then rinse with warm water. Then roll out your usual moisturizer.
Face: honey and yogurt mask
Mix one part of plain yogurt and one part of honey and apply to wet face. Leave on for 10-15 minutes and rinse with warm water. The blend hydrates and soothes the skin. Honey is also a cure-all as a juvenile acne face treatment.
Hands: mask to soften your hands
Put a hand cream in the refrigerator for a couple of hours, then take it out and put 2 tablespoons in a container with 2 drops of tea essential oil, five drops of lavender essential oil, one tablespoon of olive oil and a banana and mix everything with the help of an immersion blender until you get a homogeneous and creamy mixture.
At this point, spread the mixture on all hands and especially on the cuticles. Then put on the rubber gloves of those for washing the dishes and leave on for a good half hour. To make the mixture penetrate even deeper you could help yourself with a hot water bottle, placing your hands tucked into gloves on it.